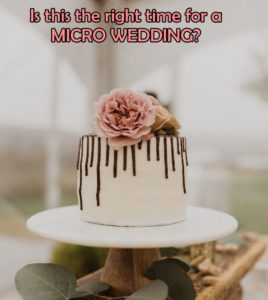 These are indeed strange times we are living in.  And we know many couples have dealt with postponement and rescheduling of the biggest day of their life.  We're sorry this usually joyful experience and morphed into something else.  Maybe we can help those of you that don't want to wait to say "I Do" by suggesting a Micro-Wedding?
The government's current position of opening in phases may be a good thing for flattening the Covid curve, but it may not work for couples that still want to move forward with their date.  I have a couple booked for late May with a guest count of 130.  This number probably won't fly in most states as gatherings of more than 50 are still being discouraged or prohibited.  Enter the concept of the "Mirco-Wedding".
Our company has developed a Micro-Wedding package that offers lower pricing and a high level of service.  And prices are even better if your book Monday through Thursday.  Several venues we work with are developing weekday deals to help couples that for one reason or another, still want to keep their date in place.  And let us not forget that marrying the human you love most on this planet is the real reason for any wedding.
If you're booked at a venue and just cannot reschedule, talk to your venue manager right away about downsizing to a more intimate affair.  Venues are under immense pressure too!  Venue managers are doing their best to reschedule booked couples and field calls from prospective clients.  If you haven't booked yet, consider booking on a weekday.  Consider downsizing.  Remember a celebration is what you make of it! 
By the way, just mention this blog post and we'll give you free up lighting for any wedding booked before August 30th!  Call, text or email us anytime.  We're here to help!